Suzanne Aurilio is my guest blogger. She and our SDSU colleagues have enjoyed some solid successes in bringing faculty to rely on and appreciate technology. Here is her story.
I've been working with university faculty on teaching, learning and technology for almost ten years. During much of that time, I led a well-funded program in which we incentivized faculty to experiment with technologies to improve teaching and learning.
The program had impact. It catalyzed strategic alliances with key units and leaders. It created a flexible infrastructure of personnel and resources.
It was a sustainable effort that grew into an ecosystem that enabled the university, in difficult budget circumstances, to develop online courses cost effectively. This ecosystem consists of a community of instructors, instructional professionals and administrative partners, and a configuration of programmatic and performance support strategies.
In this post, I describe these strategies, which like any successful effort, begin and end with the people.
Professional Learning Communities
Technology as subject matter is cold. It is foreign to some academics too. Education as practice is warm; it's all about people. The professional learning communities (PLCs), semi-structured, regular gatherings, are the heart of our ecosystem.
Andrea Saltzman and Mark Laumakis facilitate the PLCs. Andrea is an instructional designer housed in one of the Colleges, Mark an experienced online instructor, who also leads faculty development efforts in the all-university Instructional Technology Services (ITS). ITS is a place. This is important because this place is where the high-tech resources are and the high-tech people congregate. And it's where we meet. It's the physical center of an ecosystem that's largely about non-physical stuff.
Andrea and Mark begin the PCLs in January with a half-day kick-off for the selected participants. From forty faculty applicants, a dozen are chosen by academic leadership with the charge to move one course online for the summer session. Each participant has four months to develop and prepare to teach this online course. The professors possess varying degrees of experience with educational technologies, from none to some.
At the kick-off, Andrea, Mark and Jon Rizzo, another instructional designer, introduce four concepts: course structure, asynchronous verses synchronous delivery, student engagement, and course design evaluation. Several alumni faculty share lessons learned. I introduce resources we've organized in Blackboard. We close with an explanation of how the professional learning communities work, and they leave with a 176 page book in hand, Conquering the Content, A Step by Step Guide to Online Course Design.
It's condensed and cozy. We've learned that presenting one or two vetted resources and one or two alumni is all that's needed to begin. We're all in this together and learning as we go. The best each of us can do is to know how to find the answers and whom to ask.
Then, Mark and Andrea divide the group and lead two PLCs. Each one meets bi-weekly. The meetings aren't mandatory but most participants find them necessary because without them it's difficult to connect to all that has come before. The program has been around for five years and many lessons have been learned. People, ideas and resources have serpentined through the process of "preparing to develop and teach an online course." And while trails have been forged and markers laid out, human guides are a big help.
A Wedding?
This is not business as usual. Teaching at SDSU and pretty much everywhere has historically been a cottage-industry. Now, with technology in the mix, things are different. I recently encouraged a professor to think about teaching with technology as if she were planning a wedding. It's a coordinated effort. She can't do it alone. You hire a caterer, photographer, DJ. She realized then that she did not have to create the online course on her own. She has "people" to help her turn her ideas into reality.
But there's more. I don't have to know how to do everything either. I'm candid with faculty that I am only two steps ahead of them with the technology. In saying that, I'm making it ok for them to not know, to learn out in the open, and to embrace the process. Here's an example of that.
The Caterer
At the PLC, Andrea and Mark take turns leading meetings and taking notes. Faculty talk about what they are working on. Andrea and Mark listen and provide immediate responses to their needs. One instructor, Samantha, might say "I'm having trouble deciding on the structure of the course." Andrea might reply, "What are you having trouble with exactly?" Mark would be taking notes: Samantha's having trouble deciding on structure. Another instructor, Fred chimes in, "I'm having trouble too." Andrea would then ask, "Is anyone else having trouble? Should we go through it now, or how would the group like to proceed? Fred and Samantha– I can mail you the link to our course structures resource, or we can meet together or individually and I can walk you through them together." The group decides to go through it then and there. In other cases, individual sessions are arranged and formal workshops are set up. Guidance in this case is a regularly scheduled how's it going dialogue, with the goal of making the going better.
The Menu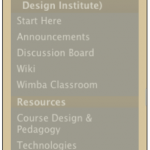 As I mentioned earlier, we have amassed many resources. Most reside  in our organized Blackboard space. It's got modules on course design, developed with our SDSU-grown instructional design model ICARE, created in 1998 by SDSU EDTEC faculty Bob Hoffman and Donn Ritchie.
The site also offers how-to technology tutorials, templates for managing the course development process, and video tours of exemplary online courses. It offers up announcements, a discussion board and web-conferencing for staying connected. 
This online space is intended to be one-stop, self-service shop about online course design. But, let me talk about the one-stop and the self-service a bit. Instructors have used it most immediately after the kick-off. After that, their activity drops off a lot. Mark, Andrea and I use it regularly to post need-to-know reminders and pointers as follow-ups to discussions during the PLCs. I think the one-stop, self-service-ness of it  has turned out to be of more value to the guides than to faculty participants. It's how we curate and communicate the bibs and bobs of experience we've assembled.
The Families
When people get together and connections are formed, stuff happens. In 2008, Gary, a faculty participant, wanted his students to take a proctored final exam, so he created a handful of materials, which then became templates for other faculty members. The story of how and why he came to develop these resources also became one of the stories he, Andrea and Mark share when faculty consider proctored exams.
As more instructors have wanted to teach online, more have wanted to know about proctored exams. By 2011, assessment in online courses had become a topic of inquiry and interest for our community. Stephen, a faculty alumni, spent the next year as an ITS Faculty Fellow charged with investigating the establishment of a centralized on-campus assessment-center. By 2012, the focus of the SDSU annual symposium on teaching and learning was: Making Assessment Work for You, Your Course, Your Program and SDSU. Our new president offered a 40-minute speech on the matter. Our provost attended. And Stephen and other faculty alumni gave presentations.
Healthy Marriages and Their Offspring
A wedding kicks off a new ecosystem, comprised of two people and their people coming together. They congregate. They connect and reconnect, welcoming new people into their group. They help each other out. Developing an online course and teaching it for the first time is hard work. But faculty know what hard work is; that's not the glue. No, it's the newness of it all–new technologies, new teaching methods and new ways to work together. If our past is any indication of what to look forward to, it's the refreshment that change brings that will keep us thriving for years to come.
+++++++++
Suzanne is the Director of Technology Enhanced Instruction and Faculty Support in the College of Extended Studies at San Diego State University. Read more about her here  http://saurilio.blogspot.com