Guest blogger, Dave Basarab, introduces learning bursts. What is a learning burst? How do they work? Dave explains below.
Suzanne Murphy, the head of leadership development programs for emerging leaders at IBM was at a crossroads. In the next few years, approximately 4,000 emerging leaders were going to begin their development track to place them into business management positions.  Susan wanted to do something different than what they had done in the past, which was classroom-based Business and Financial Acumen training. She wanted it to be fun, memorable, to use alternate forms of delivery, to include some gaming, to promote networking among students from all over the globe, and to reduce expenses.
Susan was establishing these ambitious goals just as I was finalizing my first commercial coursing using Learning Bursts.  We were converting Dr. Phil Young's 2-day Business Acumen seminar into a new and different way of delivering training – what I called Learning Bursts. Suzanne was open to trying our technique.
What is a Learning Burst?
A Learning Burst combines an 8 to 10-minute audio cast (in a talk show format) with a PDF workbook with supporting material. The workbook material contained further elaboration of the audio topic, a short quiz, and a prompting exercise to get participants to think about how they would apply what they've learned to the workplace.  Workbook materials for each Learning Burst were 3-5 pages in length.  In this course we were using a PC based business simulation to augment the Learning Burst. Each Learning Burst was a self-contained discussion of a particular topic and the topics can be taken in any order.  Audio segments are in a MP3 format and can be played on any compatible player/device.
Click here for a sample of courses using Learning Bursts.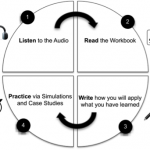 A series of 10 Learning Bursts made up the new IBM Business and Financial Acumen course.  Each Learning Burst experience looked like this.
Working with Suzanne, we launched the new course as a blend that includes webinars and the Learning Burst approach. It worked like this:
We trained 50 HR professional to be program facilitators – they host the web sessions and monitor student progress.
Each virtual session has a defined start and end date – just like a traditional class.
A company executive "sponsors" each session. He or she kicks off each aspect of the program. The students are assigned the 10 Learning Bursts to complete individually in 2-4 weeks.  A SME (subject matter expert) from Finance is assigned to the cohort to answer questions.
At the mid point web session, the content from the Learning Bursts is reviewed and the students are placed into virtual teams of 5 each to complete the business simulation together.
In the final sessions, each team presents its 5-year simulation results in a Board of Directors' type of presentation.
The program is in its fourth year and continues to be one of the highest rated courses in the IBM leadership development track.
++++++++++++++++++
Dave Basarab, an accomplished senior learning executive, trainer, evaluator, author, teacher, and thought leader, is the inventor of the Learning Burst methodology.  Basarab, author of the best seller The Training Evaluation Process and his newest training evaluation book, Predictive Evaluation.  Basarab's experience includes senior executive learning, development, and teaching roles at Fortune 100 companies, including Motorola, Ingersoll Rand, NCR and Pitney Bowes.  For more information visit www.davebasarab.com.