When I heard that Deloitte had purchased more than one hundred acres to construct a leader development facility in Dallas, I was stunned. What were they thinking?
Then I heard that, in the midst of the great recession, they intended to spend as much as three hundred million dollars in constructing their center. What were they thinking?
I harkened back to stays at other facilities devoted to the development of leaders. GTE came to mind. I worked there three or four times, soon after they built a wondrous center in Connecticut. It was surrounded by forest and trails, with lustrous wood floors and dramatic arching bannisters. I also worked at the Merrill Lynch retreat center, originally created to house their development efforts and converted to provide New Jersey conference space to one and all. A few years later I enjoyed a day in AT&T's newly dedicated center. Chefs in tall white hats carved roast beef.
Why, I asked. The answer was some variant of, "We want our leaders to want to come to this center. Our ______________ (fill in the blank with one or several from the items that follow: architecture, commitment, cuisine, bucolic setting, game tables, hiking trails, gym….) will make it more likely that they will choose to come here for their development."
It boiled down to if we build it, they will come.
Mostly, they did not come. A place, even a great place, was not continuously compelling after that initial blush of enthusiasm.
I brought my skeptical self to Texas to find out what the people behind Deloitte University were thinking. As full disclosure, I think Deloitte is chock full of smart people, which I know because I have done work for them in the past. What were those smart people thinking when they chose bricks over clicks?
Welcome to Deloitte University
On April 19, 2012 I visited the Deloitte University campus. As we drove past paddocks and barns, cows, horses, and fields full of butterflies, I relaxed. I might be doubting, but I was going to enjoy myself while doing it.
The building itself was surprising in its simplicity, as you can see above. No balconies on individual rooms, straightforward treatments for the windows.
They saved themselves for the inside of the structures. That rug. The water feature—in the lobby.
Natural wood everywhere. Leather chairs in a blue that could have been wrong and wound up being right. I looked with longing at the coffee and conversations nooks bathed in natural light. It's hard to like a hotel lobby. This one was likable.
When I walked into my room, the TV snapped on. It's only a hotel room, I said to myself. That it was, but it was a hotel room with fabrics, colors and wall treatments that soothed, and without the clicks of air conditioning with a mind of its own. I wanted to take the showerhead home to San Diego. (I didn't.)
Beyond the beauty
Nearly one hundred learning executives were gathered at DU to talk about leader development. Just after 2 PM on the 12th of April, we got down to business.
Bill Pelster, a managing principal of Deloitte's Talent Development unit, welcomed us. Anticipating everybody's question, he shared the WHY behind the place, acknowledging that Deloitte partners debated clicks vs bricks before they commenced construction. Most of those involved expected that Deloitte would choose to expand their investment in technology. But the top leadership of Deloitte determined otherwise. They selected bricks, because, in their view, it better represents their culture. People at Deloitte, Pelster said, like to be with each other and they benefit from those interactions.
DU is devoted to delivering a cross-functional leadership pipeline. Pelster said that Deloitte was hoping to move beyond their habit of looking to the people they already knew. Now, via concentrated collegial experiences at DU, the pipeline is, in his view, growing better, stronger, more diverse.
Jayne Johnson, formerly at GE in Crotonville, and now leading the leader development process in Deloitte, invited participants to talk about their programs. Many did. For example, Merck's Nancy Singer said that her organization is good at developing leaders within their areas of expertise, but acknowledged some need to do better at nurturing general managers, especially for service in emerging markets. Eric Paul from Dell noted their shift from a software to a solutions company. Most of us nodded when Paul said, "The soft stuff is really the hard stuff." 
On tour
My DU tour leader was Terry Bickham, CLO – Clients & Industries and Markets & Offerings. Terry enjoyed his opportunity to show off his "baby," a project on which he had worked since the beginning. Terry toured with gusto, while a dozen of us oooooed and ahhhhhed at the landscaping, water feature, sustainability, gym, business centers, and board room. Have I mentioned the food?
More disclosure. I've known Terry for nearly twenty years, since his years as a Coast Guard officer in graduate school at San Diego State University. When he told me that he would be committing significant time to the creation of DU, I was against it. What about technology? What about the cost of travel? What of time away from clients and projects? What of the issue of transfer from events to practice? Why do you want to be associated with a project that makes people wonder what they and you could be thinking?
Terry acknowledged that I was raising substantive concerns. He said that he and the team wanted to work on solving those meaty problems. It wasn't going to be certain or easy, and that suited him fine.
When a classroom is more than a classroom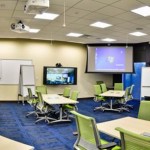 Our tour joined a class with two leaders and 50 participants clustered around tables, facing every whichaway. Bickham talked about teaching from the middle of the room, about how multiple screens and projection systems enable that, assuring that none of the groups or individuals at the small tables are disadvantaged. Each participant looks directly at whatever is projected, sometimes from the instructor, sometimes from a participant's system.
There is an iPad at each participant station in the room, 400 in total at DU. When Deloitte tallied how much they were spending on printing, it made sense to move participant and instructor materials to the cloud, relying heavily on Sharepoint.
Telepresence was part of the DU classroom experience. We were in a room in Texas. Easy as pie, Brie joined us from Los Angeles. The sound and visuals were wonderful, better than I'd seen in other, older systems.
There is much in that classroom to like– and to worry about. After decades of teaching, I see risk. Something could break down. No, for sure, something will break down. DU anticipated that. In every room, there is a way to communicate with a control center. Help is just minutes away. It's part of the investment and something difficult for the rest of us to replicate.
The instructors in our session emphasized the importance of a complete experience, of designing in ways to touch participants before, during and after DU events. They emphasized the use of technology to focus learner intention. One mentioned the Cal Wick metaphor about extending the finish line of the class. DU people appear to appreciate that their dramatic, new center is only one performance lever.
Am I a convert?
To some extent I am a convert. Everything about DU says that Deloitte is good at what it does and is committed to investing in its people. Potential customers and employees will get this loud and clear.
But what of leader development? Will DU advance that goal?
There I remain skeptical. Why?
Now, when DU is brand spanking new, they come. Will leaders continue to venture to Texas to teach and to learn when DU is old hat?
We know that transfer from a learning event to practice is iffy– under the best of circumstances. Can transfer be systematized? Can they make it happen beyond the campus, where it matters? Will line leaders persist after year one and two? Can they put metrics in place to make the point and advance systemic efforts?
We should be moving more of learning, information and support into the workplace. DU is the opposite. It enshrines an event that is distinct from workplace performance.
Will instructors leverage these facilities? Instructors have habits and habits are mighty hard to break.
I gave Terry Bickham a chance to comment on my halting conversion. He responded to a few of my concerns:
We prepare our leaders to teach at DU, as coaches in the new way our people will learn. Our Deloitte Faculty Excellence (DFX) program certification is required to teach at DU and over 2,000 of our leaders have been certified. And note that only one quarter of our learning will occur at DU.  The rest will be virtual and on the job. We aren't putting all of our eggs in the DU basket…
My visit to DU reminded me of many important things about learning, performance and beauty. That's why I hope you get to visit too.